ATTENTION WALK-IN CLINIC

PATIENTS
As of March 31, 2022 the Walk-In Clinic will be reducing its hours and only available Saturday and Sunday from 10 – 2 on a first come first serve basis by physically "walking in" to the office. We understand this will limit appointment availability  to walk-in patients but it is all we are able to offer.
Despite ongoing efforts to sustain the walk-in clinic we regret having to make this decision. Our walk-in clinic has solely serviced an extremely large geographical area for over 10 years but without support from the healthcare community, division of BC and the government we do not have the ability to service the growing demand of walk-in patients on top of our own family practices.
Please voice any concerns you may have to the government.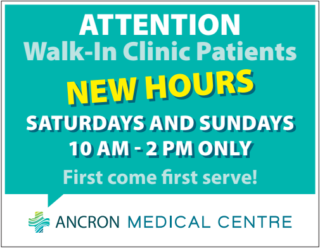 Important Message from our Doctors!
We care about our patients and our community and understand that even during this pandemic people need medical attention. Our goal is to minimize potential exposure to as many people as possible while still providing care to all of our patients. In order to do this, we ask that you PLEASE READ the following as we have had to make some changes:
Masks are still mandatory at the office

If you are feeling unwell with any Covid symptoms please call us so we can make arrangements to see you while keeping everyone safe.
If you have been in contact with a positive case we ask that you let us know prior to any in-office visits.
We are experiencing higher than normal call volumes. Please be patient as we try and work through these challenging times.
A Self-Assessment Tool is available if you feel you might have symptoms and are unsure what to do.
For general questions you can also call 1-888-COVID-19 or text 604-030-0300 or HealthLink BC at 811 anytime.
If you have symptoms and need to be tested for Covid call 250 551-7500 or book online. We DO NOT provide Covid testing at Ancron.
If you have been tested for Covid and would like your results please call 1-833-707-2792
Thank you for your patience and understanding as we navigate this evolving situation. We are all working very hard to keep you, your families, our staff and our community safe and healthy.

You can book your Lab Appointments online at www.labonlinebooking.ca or by calling 1-844-870-4756
---
Ancron Medical Centre is a family healthcare practice and walk-in clinic located in the heart of Nelson BC. Offering preventative and primary care for people of all ages.
At Ancron Medical Centre we provide healthcare in a compassionate, timely, and efficient manner serving the West Kootenay region and visitors to the area.
Looking for a Walk-in Clinic?
Our walk-in clinic is open Saturdays and Sundays from 10 – 2 on a first come first serve basis.
Need to book an appointment?
If you have a family doctor at Ancron you can register and book your appointments online at https://ancronmedical.myaccession.com/ or by calling us at 250 352-9144.
Looking for Test Results?
Test results can take anywhere from a couple days to a few weeks. View your test results online.